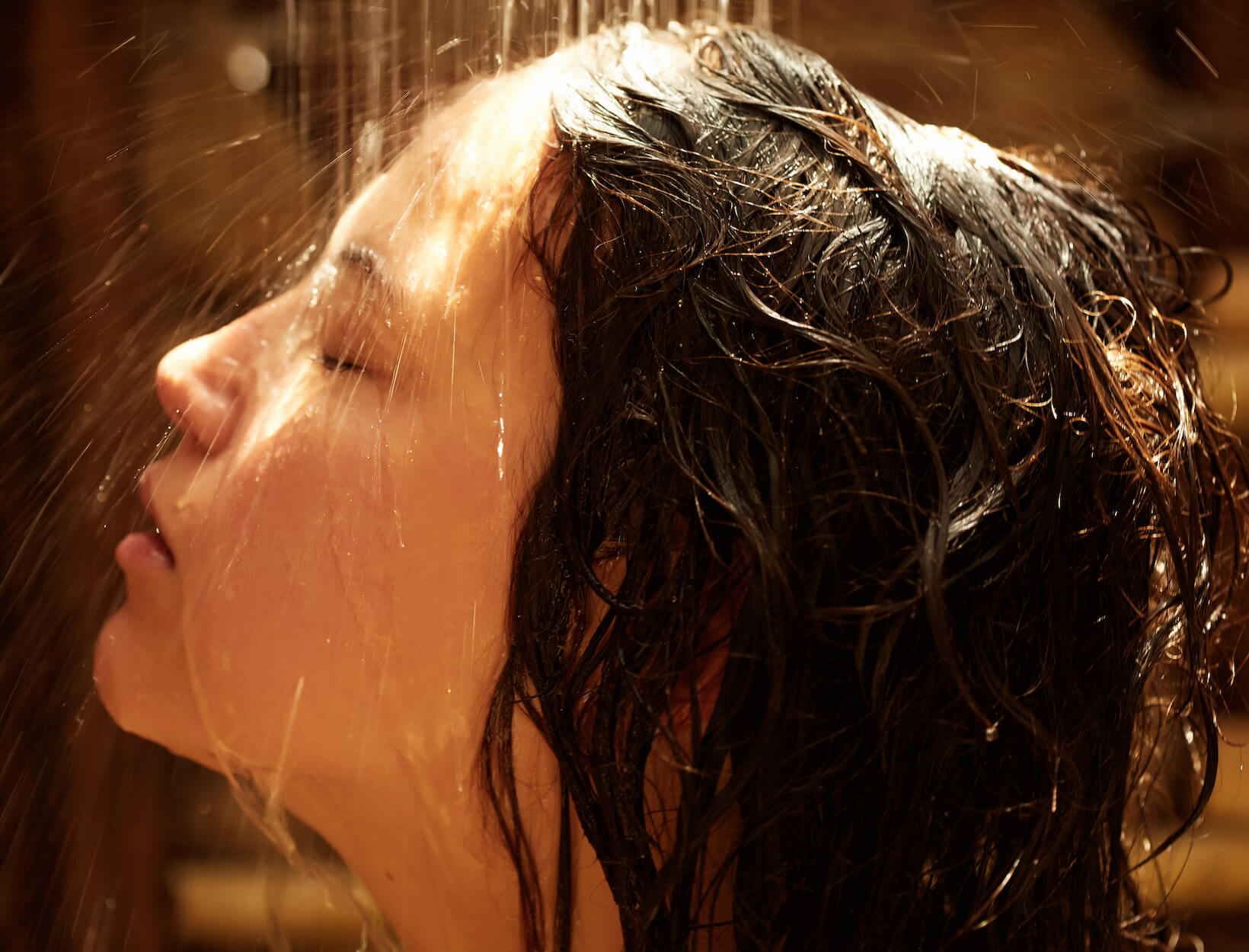 Photo courtesy of Anna Dabrowska/The Licensing Project
How to Design a Spalike Hydrotherapy
Experience at Home
Created with Kohler
Your eyes are closed and you're lying facedown on a massage table. Six showerheads are suspended above you from the ceiling, adjusted perfectly to target every inch of your body: Dense droplets drum your legs and feet in a pulsating pattern while a gentler mist meets your abdomen, chest, and arms. Red light drenches the room, courtesy of a custom installation on the Vichy system above. A massage therapist moves around the table with peppermint-infused ice balls, working them into the tissue.
It's all part of one of the next-level hydrotherapy experiences at Kohler Waters Spa at Destination Kohler. "We massage the body front and back with these spheres to challenge the tissue to vasoconstrict and contract and increase local circulation," says aesthetician Nikki Miller, director of Kohler Waters Spa and the Kohler Kitchen and Bath engineering team. "But then you have this heat following immediately from the Vichy shower—you're constantly experiencing a contrast throughout your extremities. You're tightening up and you're relaxing and you're tightening up and you're relaxing."
Located on a gorgeous property in Kohler, Wisconsin, the spa anchors the resort's wellness programming, which includes guided hikes, private yoga nidra flows, and more.
The hydrotherapy treatments at Kohler Spa are not something you can re-create at home. But it did inspire us to bring some of the elements into our shower routine.
1
Red Light
The next best thing to having red light panels installed in your bathroom: a mat that combines red light–emitting LEDs with 13 pounds of amethyst, tourmaline, and jade gemstones. Before you hop in the shower, lie on the warm stones to stimulate local circulation and ease muscle tension for relaxation and well-being.
2
Aromatherapy
Kohler Spa treatments incorporate aromatherapy throughout: lavender for calm, peppermint for more invigorating treatments. We keep a diffuser in the bathroom for the same purpose.
This bundle includes four exclusive blends from vitruvi: Try Boost in the morning for a citrus kick and Moonbeam in the evening for a sense of calm.
3
The Hot and Cold Treatment
If you're up for it, try the routine Gwyneth wrote about in one of the first goop newsletters: Draw a bath that is as hot as you can handle it and mix in your favorite salts (we're currently obsessed with "The Martini," made with pink Himalayan salts). Soak for 20 minutes, then pop into a freezing-cold shower for 1 minute. Get back in the hot bath and stay until you're warmed up. Then get back in the shower for another minute.
Of course, Kohler has a more elegant design for this kind of experience: Anthem digital control is a digital thermostatic valve system—the same technology installed for the Vichy shower at the spa. It allows you to try six built-in preconfigured hydrotherapies with the touch of a button.
4
Sound Bath
One of the spa's hydrotherapy treatments incorporates the handmade tuning bowls, which are partially filled with water and set on the body for an added sensation of vibration along with the sound.
The at-home version: Connect to a Bluetooth speaker in your bathroom and press play on this 30-minute sound bath for relaxation and sleep from holistic healer Jasmine Harsono.
5
Full-Body Exfoliation
A staple of any spa treatment and, famously, almost every beauty routine of ours.
We created this salt scrub to smooth, exfoliate, soften, and hydrate skin with mineral-rich salts and ultramoisturizing oils.
6
Head-to-Toe Moisturizer
The last step—and perhaps most crucial to feeling renewed—is slathering yourself in a clean, luxurious body oil or butter.
The nourishing lotion from Augustinus Bader helps firm, plump, and soothe for healthy-looking skin. It's made with TFC8 (the brand's groundbreaking ingredient to moisturize and restore skin), along with a polysaccharide complex, vitamins B5 and E, and aloe vera to help lock in moisture for soft, supple skin.
Or, if you have the foresight to light it before you shower, try this hand-poured candle that doubles as a body and massage oil. As the candle flickers, drizzle its nourishing mix of almond, baobab, and jojoba oils over your (or someone else's) skin and gently smooth it in—it is pure magic.