8 Amazing, Clean Scrubs (and How Not to Overdo It)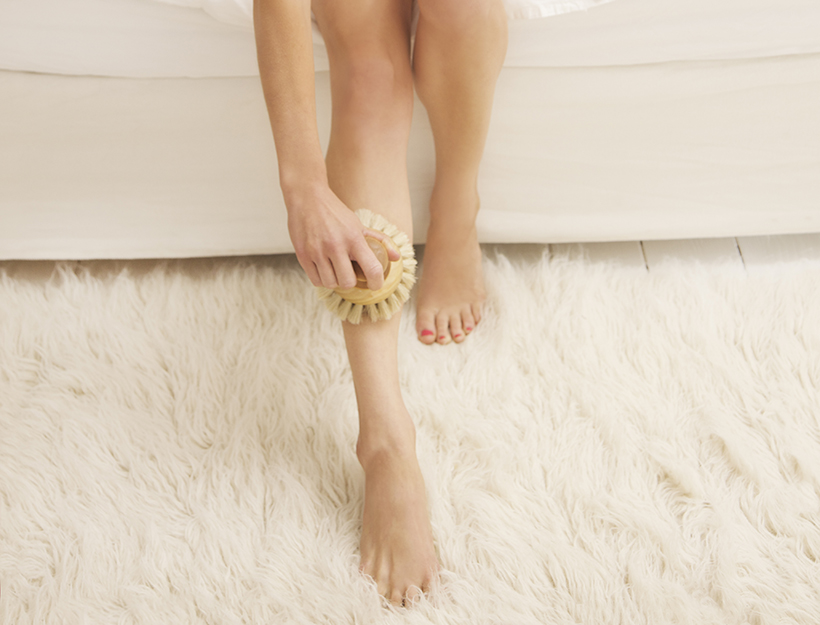 Whether you're talking diet, politics, or skin care, all-or-nothing thinking leads in the wrong—usually destructive—direction. With skin, getting the balance right is an intensely individual process, and dermatologists report that many of their clients err on the side of overkill when it comes to exfoliating.
"People will come in thinking they've got extremely sensitive or dry skin, and when they tell me their skin routines, they're doing at-home peels and scrubs, and using exfoliation brushes—all at once," says top New York dermatologist Amy Wechsler. "Too much of a good thing is…not a good thing! You can really mess up your skin by scrubbing too much or too hard."
The stratum corneum, the outermost layer of skin, serves as a moisture barrier for skin; keeping moisture in and invaders out is its key function. If that layer gets disrupted, not only can moisture get out but irritants and infectious agents can get in. Even superficially, a compromised moisture barrier makes skin look thinner and duller, with the potential to peel, crack, and flake.
When you disrupt the barrier with overzealous exfoliation, irritants that might not bother you normally—detergents, fragrances, allergens, etc.—suddenly have a pathway into the deeper layers of your skin, where they can cause redness, further dryness, and all manner of reactions. The detergents and fragrances built into most conventional exfoliant formulas are a particularly bad idea as a result: The exfoliation delivers the toxic ingredients and irritants directly into your skin. But even when using clean, nontoxic exfoliants, it's crucial to proceed with caution. Especially because the resulting dull, uneven skin surface you get from overdoing it might make you think you need more exfoliation.
Many doctors warn patients to avoid exfoliating in common spaces, like the gym. One high-end gym in Manhattan is notorious for the number of MRSA infections its members have suffered from: The gym is next to a hospital, so many of its doctors work out there; microtears in skin from using a scrub in the shower leave the scrubber much more vulnerable to infection.
Brushes—whether for body or face—can be incredible ways to exfoliate (and in the case of body brushes, invigorate the entire body and spirit). Firm (but not hard) pressure makes all the difference. The other thing to avoid is going back over a particular spot with the brush multiple times.
That said, the right amount of exfoliation actually helps maintain the stratum corneum. In fact, the benefits of exfoliating are especially pronounced for those with severe dry skin, which is most often treated with alpha hydroxy acids to help normalize the process of shedding dead skin cells and generating fresh cells beneath them. As with most substances, the dose makes the poison.
To make sure you've got the balance right, look first at the sum total of exfoliating products you use: Alpha and beta hydroxy acids, prescription retinoids like Retin-A or Tazorac, over-the-counter retinols, some peptides, and enzymes like papaya and pineapple are all exfoliating, so many antiaging creams, along with many acne treatments, are exfoliating in and of themselves. Many cleansers contain these same ingredients, too. If you're using a treatment, a cleanser, a cleansing brush, and an exfoliant, all of them sweeping away skin, and you're feeling like your skin is too dry or becoming sensitive, dial it back completely, then slowly reintroduce your favorite product, replacing the others with nonexfoliating versions.
Another factor to consider is that physical scrubs made with things like walnut shells or apricot kernels naturally have rough, irregular edges that can tear skin on a microscopic level and more quickly induce dryness, redness, and reactions. Then again, chemical exfoliants (this includes any exfoliant that's not physical, from AHAs to enzymes) can irritate some people's skin—finding your perfect formula may involve some trial and error.
The benefit of regular, not-too-intense exfoliation, however, is nothing short of dramatically better-functioning skin. When we're babies, our cells turn over and slough off easily, which is one of the reasons children's skin looks so beautiful. As we age, that process gets slower: Dead skin cells create a rough, dull texture that both looks older and is more vulnerable to outside irritants. Properly exfoliated skin mimics that youthful smoothness and allows treatment ingredients (including plain old moisturizer) to penetrate better, for more profound results. Glowy, healthy skin is the result of many things, but a good balance between properly exfoliated and well-moisturized is absolutely key.
5 Powerful-Yet-Gentle Face Scrubs & Exfoliators
3 Super Moisturizing Body Scrubs
…And One Great Dry Brush