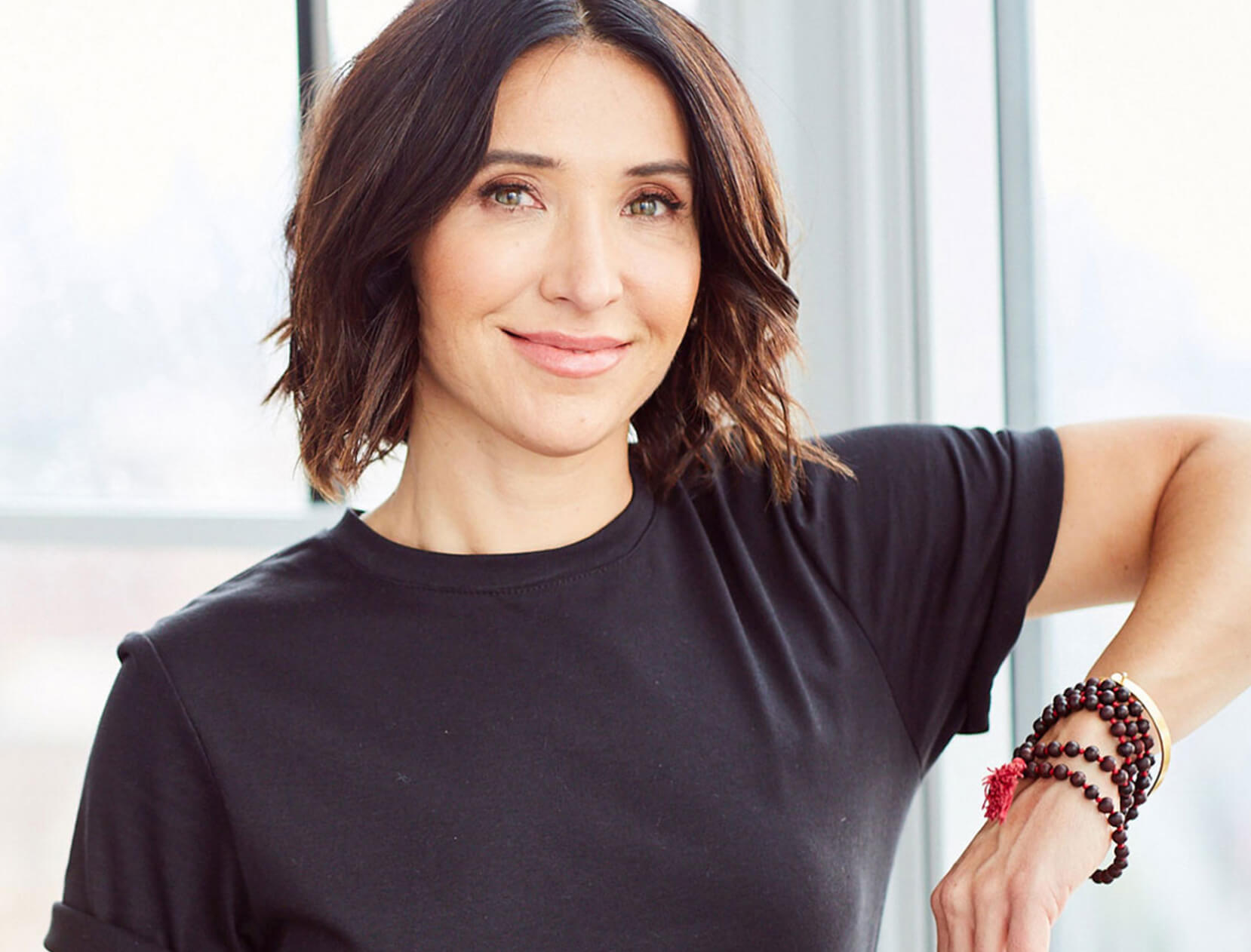 My Morning Routine
Creamy-Whipped Ghee, Exfoliation,
and a Pre-Ashtanga Soak
Raquel Tavares |
Founder of 4th & Heart
It's hard to remember what came first, our obsession with ghee—the clarified butter that's a source of omegas, lactose-free, and effing delectable melted over popcorn, sautéed with vegetables, spread on toast, baked into pies, and added to pretty much anything in place of butter—or our fascination with Raquel Tavares, forty-four-year-old LA-based founder of 4th & Heart, the bestselling grass-fed ghee brand we cannot get enough of. Tavares, who immigrated from Brazil to California as a child, has always been an entrepreneur (at age nine, she had a cherry-selling business), and in 2016, she started 4th & Heart, which makes beautifully packaged artisanal ghee. Today she sells twenty different flavors and forms of ghee and just introduced (delicious) ghee-powered bars in stores across the country, including Erewhon and Amazon. (We especially recommend the Himalayan sea salt ghee on toast. The garlic-infused oil brings depth and complexity to any pasta or vegetable dish, and the ghee-chocolate spread is a Nutella lover's dream.)
She credits her twenty-year Ashtanga yoga practice with helping her maintain balance between work and life, strength and flexibility. As a busy single mom of an eight- and a ten-year-old, balance is critical for Tavares, every morning. "I get my kids half the time, so a challenging thing about being a single mom is missing them. But either way, I do take time alone to regroup, meditate, take care of my skin, work out, or call a girlfriend for some laughter," she says. Unsurprisingly, she starts every morning with a little ghee.
6 a.m.: I've always been an early riser. I naturally wake up without an alarm, or I hear the pitter-patter of my kids' feet outside my door—apparently, they got the early-riser genes. When they're around, I get up before them to sit and enjoy some silence as I make coffee and read the news. Making a morning cup of coffee is such a ritual for me—I actually go to sleep thinking about it. I love coffee sooo much. I grind beans, do a pour-over-style drip, and add grass-fed cream and a splash of ghee. I remember being up early with my mother as a child, staring at her coffee cup and wondering when I could start drinking it, too.
6:30 a.m.: Taking a bath first thing before I work out or do yoga clears my head. The Ashtanga method recommends taking a hot bath and having a cup of coffee or tea before practicing because it softens the muscles and relaxes the mind, and the coffee gives you prana, or energy.
So I run a bath using "The Martini" bath salts. The full name is Emotional Detox Bath Soak—and it's true! I thought I'd need to use the entire bag for a bath but was pleasantly surprised to find I can get by with pouring in a few tablespoons to get that deliciously fragrant mineral, salty, herbal scent that reminds me of a spa in Bali or the Himalayas. It's made with Himalayan salt, chia-seed oil, passionfruit, valerian, frankincense, vetiver, sandalwood, and myrrh, which are all considered sacred aromas in different parts of the world. I get such an escape from a quick thirty-minute soak.
7 a.m.: I towel off, toss on yoga clothes, and whip up some breakfast for the littles.
8 a.m.: The kids get on their Zoom classes for school, and I roll out my mat for yoga, hit the treadmill, or hop on the Peloton. Sometimes I do all three!
9:30 a.m.: I finish with a morning meditation from Deepak Chopra's twenty-one-day meditation. The world is chaotic, with one trauma after another, so I've gone back to meditating, writing in my gratitude journal, and even going as far as writing positive affirmations on Post-its. We all need to take care of ourselves mentally, spiritually, and physically and not feel that we have to apologize for it. Sometimes I pop into my single-person sauna to sweat some more.
9:40 a.m.: I dry brush—it's exfoliating, and it changes your life. I started doing it about five years ago, and if I stop for even a week, I notice my skin isn't as soft or youthful; it takes an extra five minutes for priceless results.
9:45 a.m.: I take a shower. This is the perfect exfoliating body scrub—it has just the right amount of oil and salt, and the scent is fresh, earthy, and natural. Some people say to exfoliate every other day, but I like it every day.
10 a.m.: After my shower, I lather my face in lotions and potions, including vitamin C serum from Tree of Life to even
skin, help tighten pores, and give my face a vitamin bath. I love, love, love
the new goop face cream, especially for when it gets cold because it's such a
moisturizing shield for the face, neck, and chest. I love using the extra on
my hands and elbows—and a little goes a long way.
If my muscles or joints are achy, I massage in Ayurvedic Mahanarayan Oil from Banyan Botanicals. Just know that it does stain.
10:15 a.m.: I toss my damp hair into a bun, get another cup of coffee, and start work. Our company still isn't going in to the office, so I carved out some space upstairs. Mornings before work offer a sacred space and set the tone for the day. They're a good time to remind myself that self-care is self-love, and if you don't honor yourself first, it's a challenge to find your way in the world.