Godfrey's Guide: My Adaptogenic Morning Coffee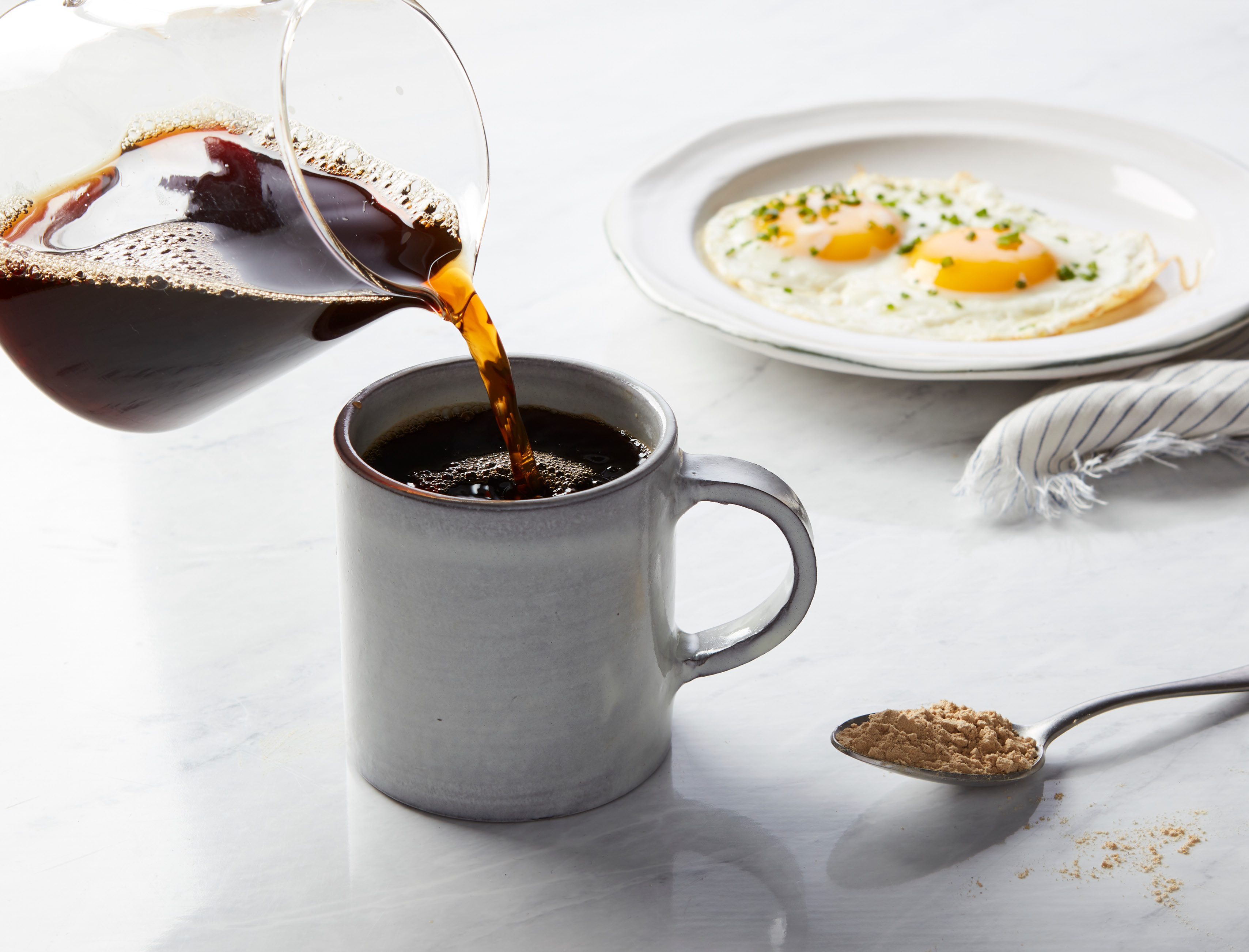 Godfrey's Guide
Jean Godfrey-June is our beauty director, but her enthusiasms are many.
Coffee is not the most unusual thing to be fond of. Like, if you put on a dating profile that you really like a cup of coffee in the morning, you'd get many messages of agreement (or many "duh!"s). The somewhat grim fact that coffee is a primary source of antioxidants for many Americans bears out this theory. A moderate amount of coffee improves performance, both mentally and physically. Too much of it, of course, gives you the jitters or makes it hard to sleep, but a little of it is a very good reason to live.
I did not put my love of coffee on my dating profile, but my boyfriend J. and I did and do bond over coffee. Every morning, one of us makes it and brings it to the other, who lounges in bed. He quickly converted me to the world of the pour-over—Chemex, Hario, et al. When, getting deeper into goopiness, I dipped a toe into using adaptogenic herb powders (they're called adaptogens because they're believed to help our bodies adapt to stress), I started with ashwagandha. Otherwise known as Indian ginseng, ashwagandha is stunningly bitter. After my attempts with yogurt and oatmeal in no way disguised the extreme bitterness. I found success mixing the ashwagandha into my morning coffee. J. wanted some in his, too.
Around the same time, J. started reading up on the health benefits of mushrooms. He got some mushroom pills. Since goop is a font of actual mushroom powders, we had to try. Not wanting to know what mushroom powder might taste like, we started mixing it into our morning coffee.
J. had an app for a while, the kind that lets you know if you're drinking too much coffee (definitely a "duh" aspect to that), and now he tries, unhappily, to cut down to keep from getting jittery. I, on the other hand, worry about stealth-increasing my stress with too much caffeine. So when I read that many people substitute cordyceps for coffee, I had an idea.
Now the morning coffee is half decaf, half regular. With ashwagandha and cordyceps. I don't notice a difference in either the taste or my energy level—the coffee still wakes me up and keeps me going as it always has. I love the Sun Potion cordyceps powder for every day and the brilliant packets from Four Sigmatic for travel; you can't always get a pour-over on the road, but you can take your adaptogens with you.
Note: I'm trying to convert J. to macadamia nut milk, but we're not quite there yet.