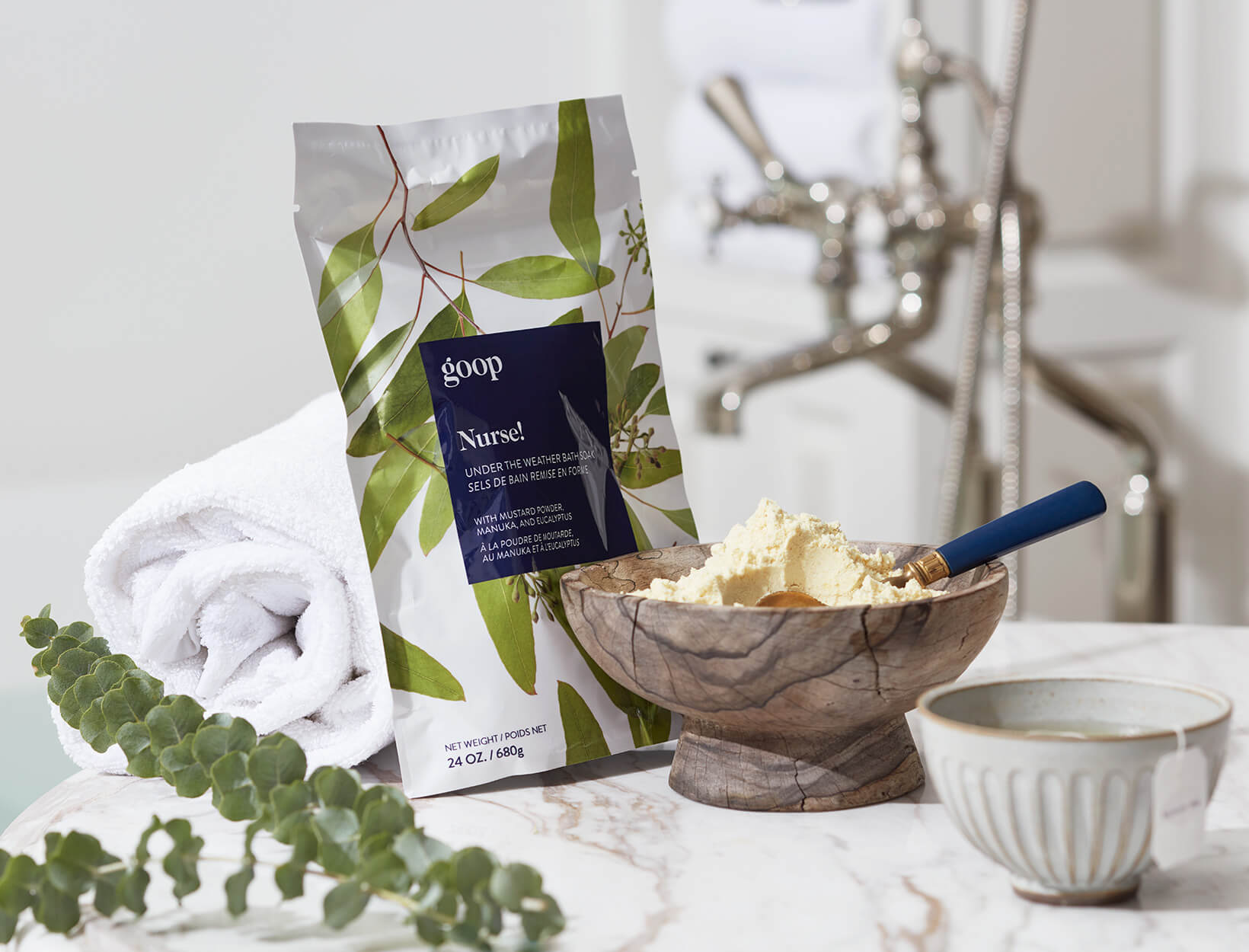 Ask Jean: Benefits of Baths?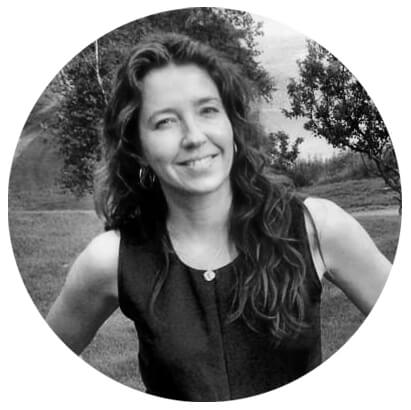 We want to answer your most pressing questions—or, you know, just the things that you're curious about. Please keep them coming to: [email protected]
Below, a q for our beauty director, Jean Godfrey-June.

Dear Jean, A bath feels nice, but I just don't have the time. Can't I get most of the same benefits from a shower? —Alice T.
Dear Alice, Just as a skin cream isn't going to give you a facelift (and the world would be a terrifying place if it did), a bath isn't going to solve all your problems.
But for me (and some of my more-famous work compatriots), though, a bath does solve a lot of problems. One of them, counterintuitively, is the no-time: Take a bath (in this case the valerian-root-infused "The Martini") when you'd normally a) have a glass of wine or b) get back to your email or c) fold laundry, and you will be amazed—I promise—at how time opens up for you.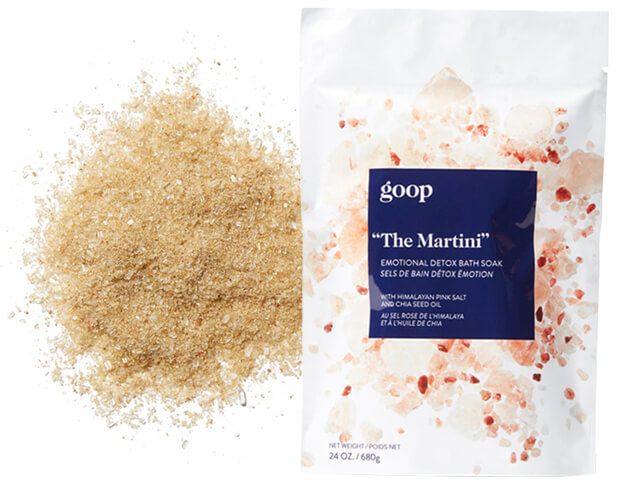 goop body,
"The Martini"
Emotional
Detox Bath
goop, $35


I live for "The Martini"—I first tried it after 12 hours on my feet at the In goop Health Summit—pure, faintly-Himalayan-pink-tinged heaven that takes me-time/self-care/taking a minute to a powerful new level. And anyone who works out—I do yoga and run, but never enough that I've moved on from being sore afterwards—needs to try Phys Ed., because it will blow your mind.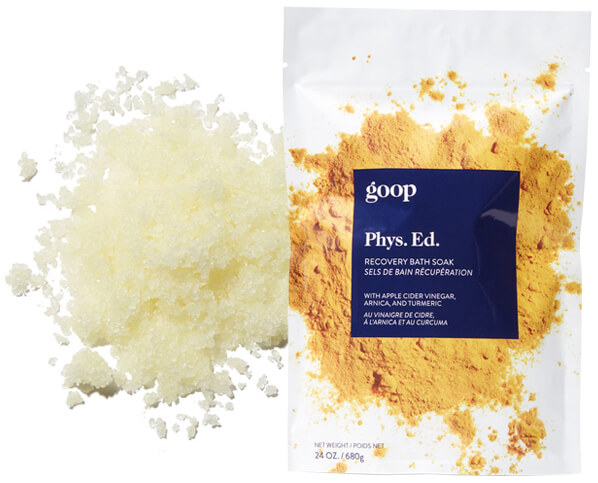 goop body,
"Phys. Ed."
Recovery
Bath Soak
goop, $35


But the bath that I full-on hoard in my medicine chest, the one that I can never have a deep-enough supply of, is Nurse!. Long before I'd ever heard of clean beauty, or imagined that ingredients like salts or essential oils could have benefits to anybody, I was a firm believer in the revitalizing power of a hot bath. (I was not then, nor am I now, anything close to a medical professional).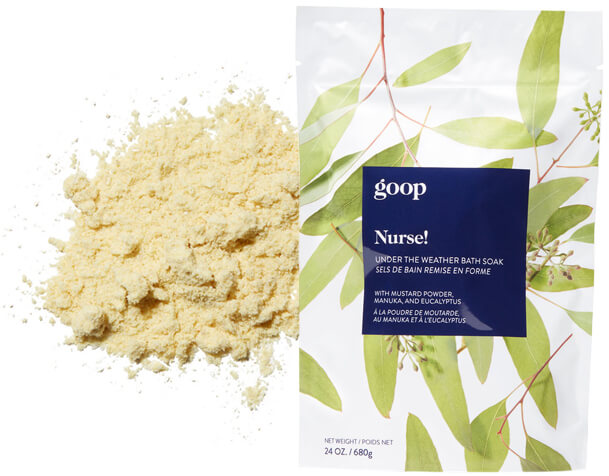 goop body,
"Nurse!" Under
The Weather
Bath Soak
goop, $35


Whether I'm feeling something coming on or am at the tail end, I believe a good 20 minutes in a hot bath gives me (and/or ailing family members) a significant shove back in the direction toward healthiness. It worked even back in the day with bath "oils" full of SLS, preservatives, and artificial fragrances—but since I discovered the power of unadulterated salts, herbs, and oils mixed into warm water, I feel the revitalizing bath has been turbo-charged. Nurse!, created by GP and acupuncturist/Chinese-medicine practitioner Paul Kempisty, mixes Epsom salts, mustard powder, manuka, and eucalyptus essential oil (among other ingredients), and when I tell you it feels amazing when you're feeling under the weather, I am making the understatement of the century.

You get three baths to a bag, so one bag in the medicine chest makes me feel reasonably secure. But I like to have a row of them.

There are many ways to help yourself feel better when you're not feeling your best: Some of us are more Theraflu and Tylenol PM, others (me) are more bone broth and baths, and many are a little of both. No matter where you fall on the spectrum, Nurse! is a next-level essential in the arsenal—stock up.
"The Martini" versus a Martini
I love "The Martini" after a long day (which is most days). It's not called "The Martini" because it replaces a martini (or glass of wine, etc.), but because "The Martini" is the last shot of the day when you're filming a movie. Guess which goop employee came up with that name? But use "The Martini" to replace an end-of-day alcohol moment on any sort of regular basis, and I guarantee you will be healthier and probably happier (people forget that wine = a whole lot of sugar, among other issues).